To which extent can provenion provide support to you?
To a large extent: from the idea through the entire life cyle. Ask satified customers or ask us directly

at +49 (0) 8106-92928-0
Contact


Designed by programmers!
New procedures have to be incorporated into traditional special machinery construction! What happens if a product is "revolutionary", requires new materials and new procedures?

This is often where the tried and tested construction kit modules fail, but where our broad experience in cross-sector technologies and the wealth of expertise within our team comes into its own. We also know that our software engineers can do much more than just develop software and our machine builders can do much more than just construct machines. We are particularly proud of that fact.

Realising surprising solutions through interdisciplinary competition: one of our formulas for success.


Project example (bio-technology/medical engineering)
Production of coagulation-promoting wound dressings according to GMP regulations
In cooperation with KETTENBACH MEDICAL and Hematris Wound Care, provenion gmbh developed an automated procedure to manufacture the Hematrix® active patches for external wound healing.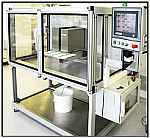 Project example (mechanical engineering and other production industry sectors)
Development and manufacturing of a polishing machine
for round and flat tensile specimens for material testing in the aviation industry