How quickly nothing gets done!
Do you want to meet prescribed limits as well as high efficiency in short delays? Take advantage of our competence and experience

at +49 (0) 8106-92928-0

Contact


And where is the boss?
Which has played a greater role in shaping humanity: the ability to control fire or the invention of the wheel? "A combination of the two", says Wolfram Hellmich, our Technical Director. He works in the engine testing room on the reduction of fuel consumption and exhaust gases or on the use of residual heat from industrial processes.
Making technological advances fit for the future - just one of our formulas for success.


Project example (automotive)
High-quality carburetor adjustment and final inspection of Otto engines
To comply with legal exhaust emission standards and to ensure the nominal capacity of the devices it is common practice to perform quality-controlled carburetor adjustments during final inspection while the engine is running ...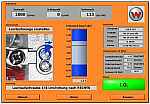 Project example (environmental and energy technology)
Cost-effective compliance with new exhaust emission limits related to a new construction machinery engine